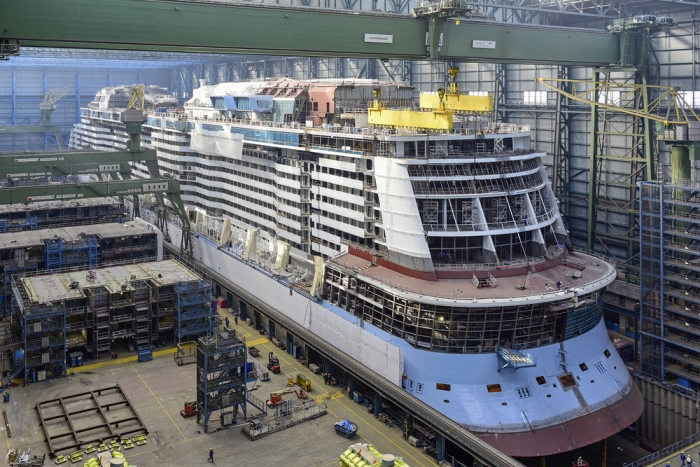 RCCL's OVATION OF THE SEAS as been floated out at the Meyer Werft shipyard in Papenburg, Germany.
The third Quantum class ship began floating out of the construction hall inch by inch at around 12:30 PM last Thursday 18 Feb 2016 afternoon.
Now that the large vessel has been floated out of building dock 2 tests will be made while in harbor.
OVATION OF THE SEAS will then be berthed alongside the shipyard outfitting pier for the final construction phase. All the interior spaces will begin to take shape and final parts of the ship will be placed.
OVATION OF THE SEAS is 168,666 gross tons and once in service will be carrying 4,180 passengers at double occupancy. The vessel has so far taken just 18 months to be constructed and will soon make its way through the Elms River for Sea Trials.
After a couple of sailings out of Southampton, UK in April the ship will then set sail towards its home port of Tianjin, China.
OVATION OF THE SEAS will begin sailing from the Chinese port in June 2016.