(www.MaritimeCyprus.com) USS Hershel "Woody" Williams, the first ship permanently assigned to Africa, arrived in Nigeria's commercial capital city of Lagos on Saturday as part the U.S. government's support to combat piracy in the Gulf of Guinea.
The 784-foot-long ship features a 52,000 square-foot, four-spot flight deck that helicopters can land on. There also is living space for the crew, which has a complement of about 250.
The ship was previously based at Souda Bay in the Greek island of Crete.
"Ship visits like this one clearly demonstrate the U.S.'s continued dedication to our partners in the Gulf of Guinea as they strive for security of their resources, their economy, and their people," Claire Pierangelo, U.S. Consul General in Lagos, told reporters Saturday.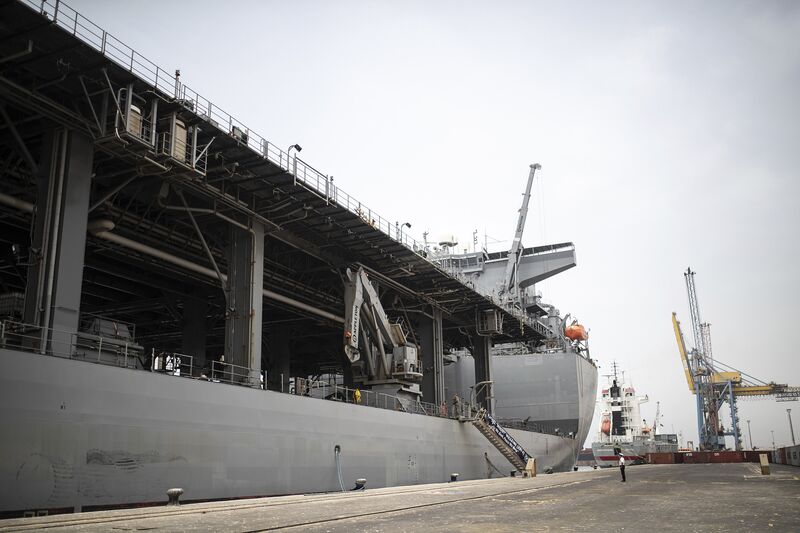 Nigerian waters are at the center of the Gulf of Guinea, a vast expanse of the Atlantic Ocean stretching from Senegal to Angola that's the most dangerous part of the world for sailors, accounting for almost all kidnappings at sea in recent years.
"We're here to train and work with the Nigerian Navy on anti-piracy, tactics, techniques and procedures," Hershel "Woody" Williams Captain Chad Graham said.
Source: Bloomberg